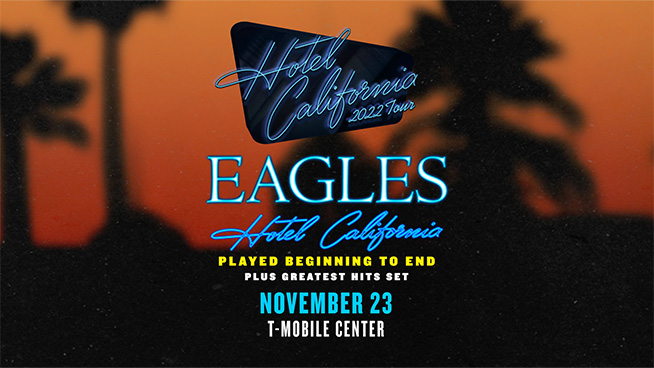 The Eagles will make a stop at T-Mobile Center on November 23. Each concert will feature 'Hotel California,' performed live in its entirety from start to finish, accompanied by an orchestra and choir. After a short intermission the band will perform a full set of their greatest hits.
CAN YOU EVEN IMAGINE HOW EPIC THIS WILL BE?!?!?!??!
You can win 'em before you can buy 'em by heading to our Facebook page Aug 15-19. Find the Eagles contest post and comment with #contest for your chance to win a pair!
Tickets go on presale Thursday August 18, 2022 at 10am at TicketMaster. Use the password: APPLAUSE to buy tickets before everyone else!
Hotel California is the third best-selling U.S. album in history, certified 26-times Platinum by the RIAA. After its release in 1976, it topped the charts and won two GRAMMY Awards for "New Kid in Town" and "Hotel California." Several of the songs from the album have never been performed since the original "Hotel California" tour. The band's Their Greatest Hits 1971-1977 is the best-selling U.S. album in history, with the RIAA certifying the collection at 38-times Platinum.