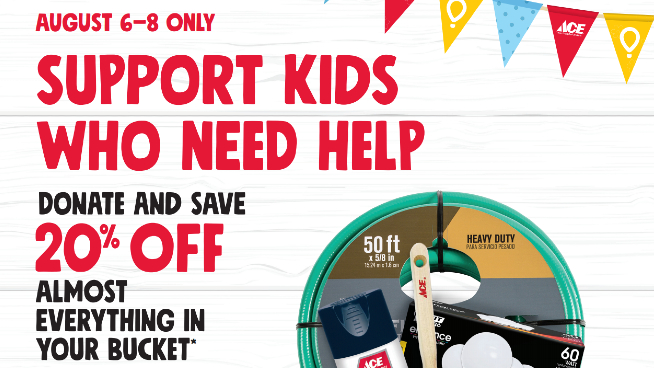 Make a donation, and get a discount!
If you make a $5 donation to Children's Miracle Network on August 6, 7, and 8 at Ace Hardware you will receive a five-gallon bucket and then you'll get 20 percent off almost anything that fits in the bucket! All Westlake Ace Hardware stores in Topeka, Midwest Ace Hardware stores in Manhattan and Junction City, and Gibson's Hardware Store in Clay Center are participating.
"Our stores participate in the CMN bucket promotion every year because it is a fun event benefiting our local Children's Hospital that our entire team can get involved with. We have a lot of 'Ace Cares for Kids' buckets roaming the store and getting filled with products. All at 20% off! It's a win for our customers! It's a win for our local CMN hospital! We love to support CMN because all monies raised stay in the community and help the kids." John Astroth, Westlake Ace Hardware
Funds raised from the event will serve the 46,000 children treated annually at Stormont Vail Health. 100% of funds raised from the event will help create miracles by funding needed medical equipment, training, and programs for children treated at Stormont Vail and Cotton O'Neil Clinics.