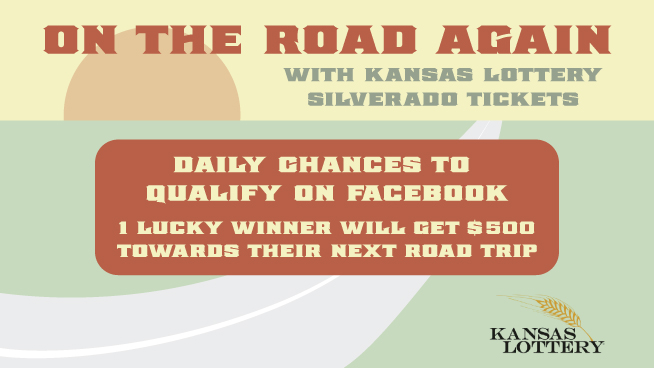 We are on the road again… because road trips are now a GO!! You can find our daily Facebook post for a chance to win a $20 Kansas Lottery Silverado Instant Ticket voucher and qualify for the Grand Prize.
Find daily posts from July 12 through August 1 with an image of a well known road trip destination. Guess the destination correctly to be entered into the daily drawing. Then on August 2nd, one lucky winner will be selected from all qualifying entrants of all participating Topeka stations to take home $500 towards their next road trip!
Got yourself some Kansas Lottery Silverado tickets? Here are all the details:
Each Kansas Lottery Silverado instant ticket is $10!

Two Chevrolet Silverado's, each with an additional $10,000, can be won INSTANTLY!
Or enter non-winning $10 Silverado instant tickets in Kansas Lottery's PlayOn loyalty program and become a finalist to win a vehicle of your choice in a SECOND CHANCE DRAWING! You must be a PlayOn member to enter and it's FREE to join!

Four drawings will be held to determine a total of 10 finalists, each of whom who will become eligible to win a Silverado.

The ten finalists will be invited to a live finale event on October 15, 2021.

 

One finalist will win a Chevrolet Silverado and $10,000.

 

The total prize package is valued at approximately $100,000!

 

The remaining 9 finalists will win cash varying from $1,500 – $10,000.

Visit kslottery.com for complete rules, entry deadlines and winner announcements.

Must be 18 years of age or older to enter. Players may enter as often as they wish. Each eligible ticket may be submitted only one (1) time in this promotion.

Learn more about the tickets here – kslottery.com
Official Rules – On The Road Again – Cumulus Topeka