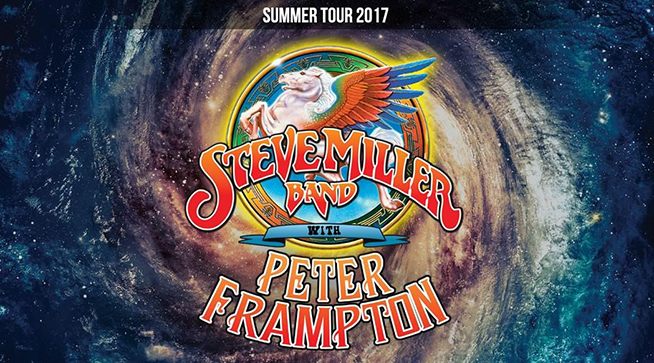 Rock n' Roll Hall of Famer Steve Miller's Summer Tour and team-up with Peter Frampton hits the Starlight in Kansas City this Wednesday July 19th.
Miller said the show will …"delve into our deep catalog of hits from the 60's, 70's and 80's, and having Peter on tour with us sets the bar high! Peter and I first met at Olympic studios in London in the late sixties when we were both just starting our recording careers. He was a wonderful guitarist and songwriter then and he is even more so today. Over the years, we've played together in venues from theatres to football stadiums and everything in between. He always sets the musical bar high, his band always knocks me out, and I'm thrilled we are going to spend the summer together doing a great run of concerts. This is the kind of quality and talent we both strive to present and I'm looking forward to a summer of great music, exceptional performances and fun. Peter is remarkable musician."
The Steve Miller Band has played to more than 15 million people in the last 20 years. In addition to touring with his band, Miller is also contributing his time to serving on the welcoming committee of the Department of Musical Instruments of New York's Metropolitan Museum of Art and as a board member of Jazz at Lincoln Center, where he curates and hosts shows at both institutions celebrating blues, jazz and early American music. In 2016, Miller presented five sold out shows at JALC: "Ma Rainey Meets Miles Davis" and "T Bone Walker – A Bridge From Blues to Jazz." His 2017 plans for JALC will be announced soon.