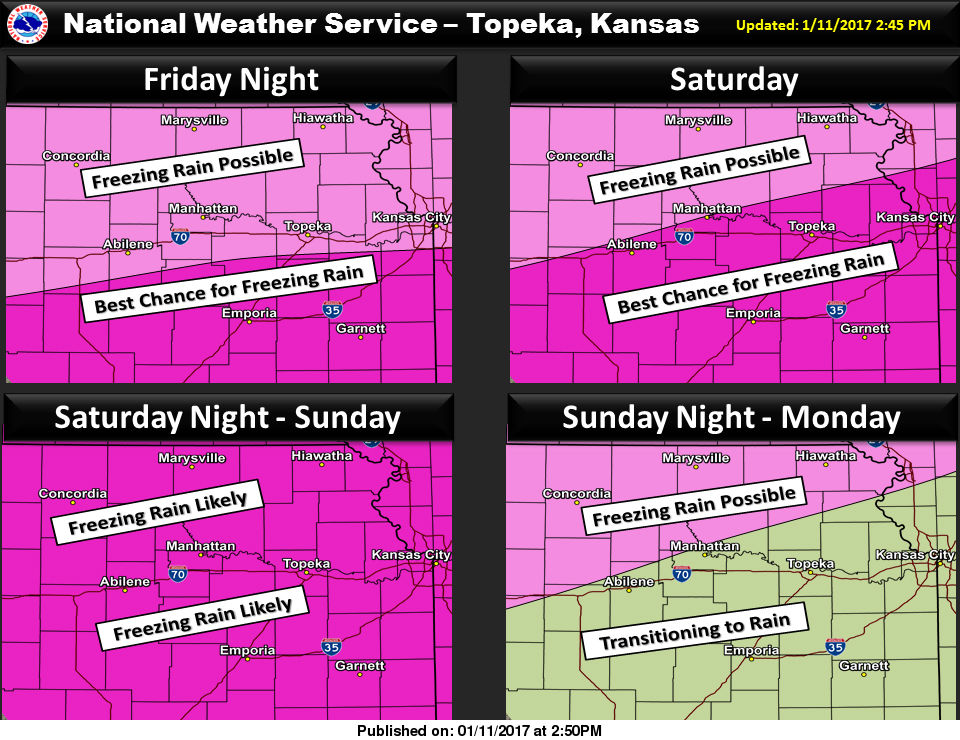 The National Weather Service has placed Shawnee County and much of Eastern Kansas in an Ice Storm Warning from Friday morning through Sunday night.
The NWS in Topeka has issued an Ice Storm Warning which is in effect from 9 a.m. Friday to midnight Sunday.
TIMING – Freezing rain will bring light ice accumulations Friday afternoon and evening. The intensity is expected to increase through Sunday.
ICE ACCUMULATIONS – Half an inch to one inch of ice possible by Sunday afternoon.
MAIN IMPACT – Light accumulations Friday night and into Saturday will make roadways, bridges and elevated surfaces slick. Additional accumulation Saturday afternoon and into Sunday is expected to cause damage to tree limbs, power lines and impact travel.
BE PREPARED – An Ice Storm Warning means severe winter weather conditions are expected or occurring. Significant amounts of ice accumulations will make travel dangerous and/or impossible. Travel is strongly discouraged. Commerce will likely be severely impacted. If you must travel, keep an extra flashlight as well as food and water in your vehicle in case of an emergency. Ice accumulations and winds will likely lead to snapped power lines and falling tree branches that will add to the danger.
There are a number of events and activities planned for the weekend in Shawnee County. If you have to travel, plan ahead and know the conditions you are traveling into.
Please familiarize yourself with the NWS Winter Weather Safety Tips and Resources page
V100 and the 13 Weather team will keep you updated on current weather conditions on-air and online.