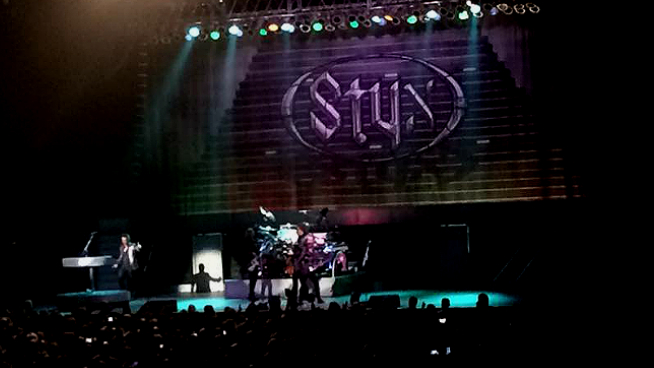 Opening up with a well-known classic rock staple and departing with a monster top 40 hit, a guitar-thick Styx sounded as good as they did in the late 80's during their Omaha show at the Baxter Arena.
Avoiding the obvious DeYoung fluff ballads (Babe, Don't Let It End), the 70's AOR stars brought the curtain up with the title track to their multi-platinum album 'Grand Illusion' to thunderous applause. Segueing without a pause into the 'Paradise Theatre' favorite "Too Much Time On My Hands", maybe the band's energy was just too much for the sound board, because just as guitarist/vocalist Tommy Shaw was about to hit the lyrics, the sound completely dropped out. For a moment everyone thought it was part of the show. But when Tom and JY threw up their hands, we knew something was wrong. The drummer kept up the beat and JY seemed to be talking to the rows of fans in front. I could see the audio person scrambling to reboot the computer. One of their screens flickered and came up. Someone must have brought the monitors for each player up, because the sound came back… but not full strength & it wasn't really from the PA on the sides of the stage. The band started up from the chorus and finished Too Much off. By the end of the song the sound was back up. Then Shaw comes out with an acoustic and says, "Well, you never know what's gonna happen, right?"
A couple of fan-service moments really went over well, including adding original bassist Chuck Panazzo for various tunes throughout the show. Shaw and keyboardist/singer Lawrence Gowan did a cover of Bowie's "Major Tom" and later Gowan did a solo piano set paying tribute to Prince (1999), Elton John (Goodbye Yellow) and Queen (Bohemian Rhapsody). The full band then came out and covered The Beatles' "I Am The Walrus". The group skimmed over their library and gave us a taste of each rock radio favorite from each, "Lady" (Styx II), "Loreli" (Equinox), "Crystal Ball" (Crystal Ball), "Lights" (Cornerstone) "Snowblind", "Too Much Time" & "Rocking The Paradise" (Paradise Theatre) and "Miss America", "Fooling Yourself" & "Come Sail Away" (Grand Illusion). Closing with "Renegade" from Pieces of Eight was an interesting choice, seeing as they did not play "Blue Collar Man" and completely ignored 'Kilroy Was Here', 'Man of Miracles' and their debut album. Bypassing Kilroy and its pop staple "Mr. Roboto" was done rightly so, even though a few drunkards in the crowd yelled for it.
JY and Tommy still can hit their notes both vocally and on guitar. The newest members, Lawrence Gowan on keys and vocals, bassist Ricky Phillips, and Todd Sucherman on percussion, fit right in and made for a seamless sound during the show. Gowan's vocals had just a hint of his predecessor's (Dennis DeYoung) and the right amount of his own take on the songs to satisfy.